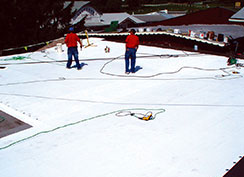 Are you searching for a superior product to protect your building? At Hoppe Roofing, we offer an effective solution in our Flexion? single-ply roofing. This high-performance roofing material has a strong record of durability, tensile strength, and leak resistance.
Our single-ply roofing meets or exceeds the standards of major code approval agencies. And it delivers superior protection against severe winds, hail, storms, and other hazards. In addition, with its white, reflective surface, it offers strong utility cost savings over the long term.
You can capitalize on this premium roofing system and Hoppe Roofing's extensive roofing experience. We are rooted in a proud legacy of service to the Tri-State region since 1977. Between our Flexion? single-ply roofing, capable personnel, and ongoing service, your building will stay leak-free and energy-efficient in the years ahead. Contact us today at (855) 472-4932 for arranging an on-site roof estimate.
Single-Ply Roofing from Leading Manufacturer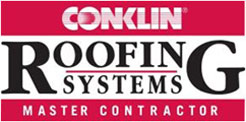 Quality roofing depends just as much on the products used as on the skills of your roofing service provider. That is why we have chosen Conklin? products. Here are a few reasons why Conklin? stands out as a building products manufacturer: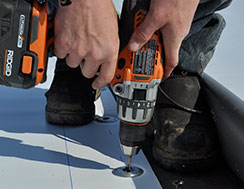 35+ year record of consistent excellence
Applied on 2+ billion square feet across U.S.
Leading record as a product innovator
Diverse product selection for all needs throughout roof's lifespan
Leading choice for new & re-roofing applications nationwide
American-made building products
Flexion? single-ply roofing from Conklin? is a superior choice for the demanding conditions of the American Midwest.
Single-Ply Roofing & Its Benefits
The Hoppe Roofing Difference
Quality service since 1977
Experienced roofers
Durable, energy-efficient products
Non-prorated warranties
Superior workmanship
With roots going back to 1977, Hoppe Roofing has strong qualifications for commercial roofing. Our capable professionals will handle your flat roof replacement needs promptly and efficiently. And here is what you can get for performance value from our single-ply roofing systems:
Formulated with high-performance PVC material
Reinforced with DuPont? Elvaloy? & 1000 denier low-wicking fabric
Gives strong, edge-to-edge, water-tight protection
Designed for lasting durability & elasticity
FM & UL Class A fire resistance
FM I-90 wind resistance (resists hurricane-force winds)
Expands & contracts easily with temperature changes
Single-Ply Roofing: Other Advantages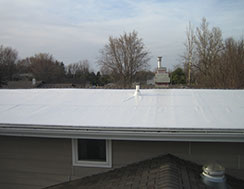 There are advantages in terms of costs, longevity, and warranty coverage, too! Here are some additional benefits of using our system:
Can outlast competing roof systems
Has performed very well in all climates
Strong resistance to discoloration & dirt accumulation
Reflects 83% of sun's rays
Can produce 25% yearly A/C cost savings
Fewer upkeep & maintenance cost demands
Increase worker productivity with comfortable building interior
Our single-ply roofing can be backed with a non-prorated, full-coverage warranty for 20 years. It covers 100% of labor and material costs during that time, in which it doesn't lose its value. You can fortify your building with this strong-performing system, have it backed with this exceptional warranty, and enjoy long-term cost savings!
Contact us today at (855) 472-4932 to arrange an on-site roof estimate. We look forward to serving you!