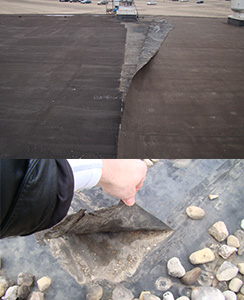 With roots going back to 1977, Hoppe Roofing is a proud, full-service commercial roofing company. We offer complete solutions for almost all types of roofs, including EPDM rubber roofing. Rubber roofing is a great source of protection for commercial buildings.
However, over time, it is subjected to weathering. Then it can shrink or crack. Or it may be compromised in other ways. When your EPDM rubber roof needs replacement, give us a call at (855) 472-4932 for a no-cost estimate. We will evaluate your rubber roof's needs and give you a professional opinion of its condition and what it requires.
Rubber Roofing Services – IA & Surrounding States
Hoppe Roofing has a proud record in the Tri-State region of Iowa, Minnesota, and South Dakota. We have an A+ rating with the Better Business Bureau, and over the years we've earned a strong record for expert service, cost-efficient solutions, and exemplary customer satisfaction.
The Hoppe Roofing Difference
Quality service since 1977
Experienced roofers
Durable, energy-efficient products
Non-prorated warranties
Superior workmanship
As part of our commercial roofing services, Hoppe Roofing offers EPDM rubber roof replacement. The single-ply roofing material we use comes from a manufacturer with a 35+ year reputation. And with its high-grade formulation and white, reflective surface, our Flexion® single-ply roofing will keep your building leak-free, energy-efficient, and cost-saving for years to come!
Benefits of Our EPDM Alternative
With premium products from Conklin®, we can offer a powerful rubber roof replacement solution. Here are the benefits of our Flexion® single-ply roofing: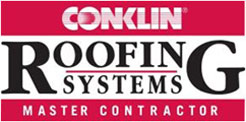 High-grade formulation with strong-performing PVC material
Reinforced with 1000 denier low-wicking fabric & DuPont® Elvaloy
Offers lasting durability, elasticity, and superior performance
FM & UL rated Class A fire resistance
FM I-190 wind resistance (withstands hurricane-force winds)
83% solar reflectivity can give 25% yearly A/C cost savings
Fewer annual demands for upkeep & maintenance
Enhanced worker productivity with more comfortable building interiors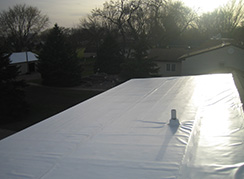 This roofing material expands and contracts with temperature changes. And it is ENERGY STAR® certified, providing additional benefits.
Rubber Roofing Contractors – IA & Surrounding States
For exceptional service, industriousness, and other defining qualities, Hoppe Roofing is recognized as a Master Contractor by Conklin®. This distinction is given out to roof contractors who meet high standards for quality work and expertise. Our roofing projects have been formally inspected by Conklin® building product representatives.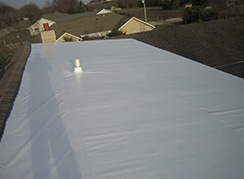 We proudly use Conklin® as our product manufacturer of choice for several reasons. These reasons include:
Strong leader in commercial roof coating & single-ply roofing markets
35+ year record for nationwide excellence & consistent performance
Great background in product innovation since 1977
Diverse selection for many roofing needs & specifications
American-made products
Solid option for new & re-roofing applications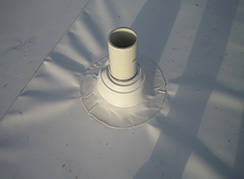 With our Flexion? single-ply roofing, we offer full-coverage, non-prorated warranties. These warranties last for 20 years, and they cover 100% of labor and material costs! You will also receive timely inspections of your roof as part of our dedicated full-coverage warranty program.
Contact us today at (855) 472-4932 to arrange an on-site roof estimate. We look forward to serving you!