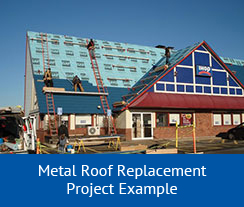 Do you need a new metal roof installation? At Hoppe Roofing, we draw upon a legacy of quality service to Iowa, Minnesota, and South Dakota since 1977. Our team members have professional training, and they adhere to high standards for workmanship and service. We also proudly have an A+ rating with the BBB.
When a metal roof sustains heavy damage or becomes compromised, the default option is replacing it. But many new metal roof installation jobs are done prematurely. In fact, industry studies confirm as many as 70-80% of roofs are replaced before they need be. And in these cases, building owners don't enjoy the full benefits of their investment in their metal roof.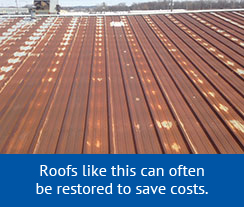 What other options are available, then?
Metal Roof Installation: Other Option
Hoppe Roofing offers another effective option besides new metal roof installation: metal roof restoration. With a timely roof coating application, you can make your metal roof look and perform like it is brand new again. It will be without the time and cost constraints of metal roof replacement.
Here are the benefits of going with metal roof restoration:
Avoid costly tear-off & disposal
Seamless membrane formed over metal roof
Rust-resistant, energy-efficient & waterproof protection
No business disruption during application
Can add decades to old metal roof's life
Holds strong against severe winds, hail, solar radiation & more
Seams & fastenings are completely reinforced
No more seams, exposed screws, or entry points for water
Contact us today at (855) 472-4932 to learn how our metal roof coatings can transform your metal roof into a cool, durable, energy-saving asset. All without the costs and headaches of new metal roof installation.
Metal Roof Installation Alternative's Benefits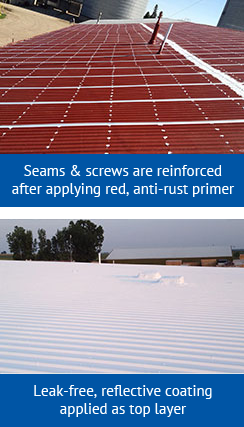 There are other advantages to our metal roof restoration products, as well. Here are a few:
ENERGY STAR® certified roofing
Reflects 85% of sun's rays
Can lower A/C costs by 30% per year
Expands & contracts easily with temperature changes
Save on HVAC system maintenance & repair costs
Lower utility costs during peak energy demand seasons
Requires lower amounts of upkeep & maintenance
Improve worker efficiency with comfortable interior environment
We stand behind our fine-performing Conklin® products with optional, non-prorated warranties. These warranties last for up to 18 years, and they cover 100% of material and labor costs. They are even renewable and extendable!
Avoid Metal Roof Installation
With a new, metal roof installation, there are many factors involved. It involves roof tear-off, which increases landfill waste and is costly and time-consuming – not to mention also leaves a building exposed to the elements.
The Hoppe Roofing Difference
Quality service since 1977
Experienced roofers
Durable, energy-efficient products
Non-prorated warranties
Superior workmanship
On the other hand, our metal roof coatings can easily be applied without any operations shutdown. Hoppe Roofing will seal your leaky metal roof during normal business hours. In other words, without any reduction in productivity – and therefore without any sunk costs resulting from the disruption.
You can count on Hoppe Roofing for your metal roofing service needs! We have a record of service going back to 1977. Contact us today at (855) 472-4932 to arrange an on-site roof estimate. We look forward to serving you!