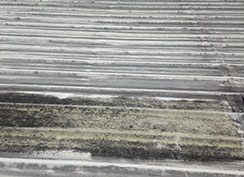 When your industrial, agricultural, or commercial metal roof needs repair, you can count on Hoppe Roofing. We have a proud record of service to the Tri-State region since 1977. Our capable team specializes in a complete line of commercial roofing services, including metal roof repair. They will handle your metal roof repair needs with promptness and efficiency.
Metal roofs are a great choice for industrial and commercial real estate. But like all roofing systems, they are vulnerable to problems, particularly costly leaks. Whether you need simple metal roof repair or more intensive repair work done, our company can help. We will address any repair need you have, and work with you to ensure your building stays leak-free in the years ahead.
Contact us today at (855) 472-4932. We will give you a professional roof evaluation. If you desire, we can discuss how your roof can be transformed into a durable, energy-saving asset.
Metal Roof Repair – Iowa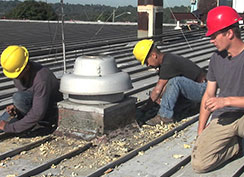 When your roof needs repair, it's best not to let it go unaddressed. Otherwise that roof damage can accumulate and result in the need for more costly roofing work. If it goes without professional servicing for long enough, the damage may compound to the point where a complete replacement is the only option.
At Hoppe Roofing, we will take care of current issues and help to mitigate future ones. With years of industry experience, our roofers have honed their expertise, knowledge, and skills. They will tackle your flat roof's challenges and help you stay on track with your budget.
Metal Roof Repair & Additional Options
Along with professional metal roof repair, we offer a potent solution with metal roof coatings. They form a seamless, protective seal over an existing metal roof. This newly-formed membrane eliminates all entry points for water infiltration, and it protects against leaks and the effects of severe weather.


Here are the benefits of our Conklin? metal roof coatings:
Seamless, fully adhered & waterproof
Can add years to old roof's lifespan
Withstands severe weather, sun's UV rays & other damaging agents
Recognized by all major code approval agencies
Little-to-no roof tear-off required for application
Reflects up to 85% of sun's rays
Can generate 30% annual A/C cost savings
Adheres to several types of roof substrates
Energy Star® Certified
Excellence resistance against decay, discoloration & dirt build-up
These metal roof coatings strengthen a building's structural integrity, get rid of existing leak problems, and keep a building energy-efficient. And they can be backed with non-prorated, full-coverage warranties for up to 18 years!
Other Benefits of Metal Roof Coatings
With our Conklin? products, you can have your roof backed with non-prorated, no-dollar-limit warranty programs. In other words, they cover 100% of labor and material costs for their duration. And since they are non-prorated, their value does not diminish over the warranty period. If any issues under warranty arise during this period, you have zero out-of-pocket expenses.
The Hoppe Roofing Difference
Quality service since 1977
Experienced roofers
Durable products
Non-prorated warranties
Superior workmanship
Our full-coverage warranty programs include annual roof inspections. We will come out to your building and inspect your roof to ensure it is in solid condition. In other words, at all stages of your roof's life-cycle, Hoppe Roofing is your dedicated roofing partner.
Contact us today at (855) 472-4932. We will be happy to handle your flat roof repair needs. Don't hesitate to ask how you can save money over the long term with our flat roof coatings, too!