We specialize in metal roof coatings at Hoppe Roofing. With the prevalence of metal roofs in the commercial roofing industry, we've seen our fair share of them. These roofs have displayed a slew of problems, from common to rare. Our team of skilled and professional roofers have seen it all. We combine this experience, a record since 1977, with creative solutions to customer-specific problems. We will work with you and discuss your exact metal roof problems and come up with the best solution.
In many cases, metal roof coatings are a long-lasting, economical, and high-ROI decision. Our metal roof coatings directly address the inherent problems of commercial metal roofs. We're able to deliver this great service and end-product in part because of our use of Conklin® roofing products. Our owner is a recognized Conklin® Master Contractor and is on-site for every job.
When you choose Hoppe Roofing, you're choosing a reliable, trustworthy company who has the skill and experience to fix any need you have. We provide free roof estimates at 855-472-4932.
What's The Difference Between Metal Roof Coatings and Flat Roof Coatings?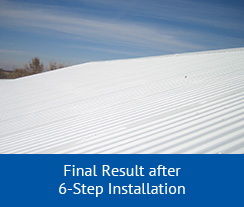 You may have noticed that we also provide flat roof coatings. These coatings come with a lot of great benefits, including:
Prevent roof tear-off and replacement
Durable protection from solar radiation, fire, hail, and hurricanes
Basically maintenance-free lifespan
Possible tax benefits from ENERGY STAR® certification
A reflective top coat which reduces energy costs
Seamless application that doesn't crack, bubble, or tear
Painless application which can be done during business hours
Backed by non-prorated warranties on 100% of the labor and material costs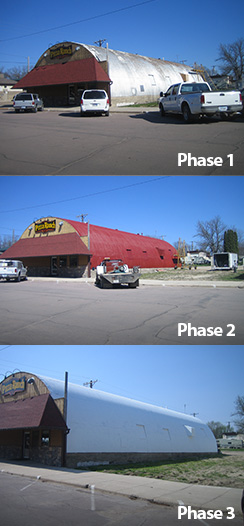 All of those same benefits apply to our metal roof coatings as well. The difference with metal roof coatings comes in two main ways:
1. Because metal conducts more heat than most other roofing materials, the white top coat can have an even greater effect on metal roofs than flat roofs. Annual A/C savings for customers who have a coating installed on their metal roof often reaches as high as 50%. Flat roof customers usually see strong energy savings, too.
2. We add an extra layer to our coatings for metal roofs. Under the white top coat is an anti-rust primer which fully adheres to the metal. Our metal roof coatings address both current and future needs.
Because of these two key additional features, coatings are actually even more important and valuable for metal roofs than they are on flat roofs. Metal roofs, more so than other roofing materials, rust easily and heat up to blistering temperatures. A metal roof coating by Hoppe Roofing directly fixes these two problems.
Are Roof Coatings for Old Roofs or New Roofs?
Both! While we are very proud to say that our metal roof coatings provide long-term solutions and not just short-term fixes for old, decaying roofs, we also highly recommend them to be installed on new roofs as well. Given enough time, every metal roof will rust and spring leaks. Taking preemptive measures and stopping those problems before they happen can save you a great deal of money and headache down the road.
Whether you're looking to restore an old metal metal roof or add a high ROI protective layer right off the bat, than our metal roof coatings are perfect for you.
Conklin® Roofing Professionals in the Tri-State Area
Our owner, Don Hoppe, is proud to be a Conklin® Master Contractor. It is a very prestigious title given to only a select few in the roofing industry. The title signifies someone who has consistently shown superior product knowledge and installation and maintained the highest customer satisfaction levels. We have provided documented proof of sound business practices grounded in integrity and honestly. This is the bedrock of Hoppe Roofing.
Conklin® has been a respected name in the roofing industry for over 35 years. Over 2 billion square feet of their product has been installed on roofs all across America. Their commitment to excellence shows in their non-prorated, transferable, and extendable warrantees on all their products.
If you would like to talk to one of our courteous and knowledgeable team members about metal roof coatings, give us a call today at 855-472-4392!