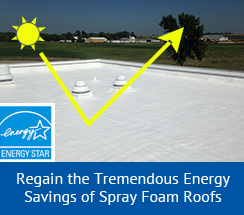 Foam roofs are among the most durable and long-lasting commercial roofing solutions out there. Spray polyurethane foam (SPF), as it's formally called, has been used in commercial applications for over 50 years. SPF roofs insulate, protect, and reinforce your building at the same time. If you're thinking of replacing your foam roof, consider these benefits of our foam roofs:
An R-value of 6.5 per inch of thickness provides tremendous insulation to your entire building.
During the winter, hot air stays in and cold air stays out. The reverse is also true in the summer months.
Prevents water damage from traveling laterally, thereby minimizing damage.
Extremely lightweight, adding little to no deadweight on your roof.
Can be up to 30% less expensive than other roof types after installation and maintenance.
Can be installed during business hours, with no disruptions to you or your clients.
Applies easily to almost any existing substrate (wood, metal, rubber, etc).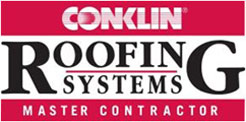 Hoppe Roofing has roots going back to 1977. We are a full-service, professional roofing company serving Iowa, Minnesota, and South Dakota. If you want to schedule a free roof inspection and talk about foam roof replacement options, give us a call at 855-472-4392.
Superior Commercial Roofing Service in Iowa & Other States
Being a full-service roofing company means we never sub-contract work out to others. When you hire Don Hoppe and his roofing crew to complete a job, you can rest easy knowing they will be the ones on your roof from start to finish. Our commitment to you is attentive and personalized service combined with the best workmanship around. Every member of our team takes pride in what they do and maintains a customer-driven approach to their profession.
Moreover, Don Hoppe, our owner, is a recognized Conklin® Master Contractor. This prestigious honor is only given to a select few in the commercial roofing industry. It is something he has worked hard for and takes great pride in. The same dedication that went into achieving this award is given to each of our customers. We must constantly demonstrate a commitment to excellence to keep the title of Master Contractor.
How Foam Roofs Work
The reason foam roofs are so durable and effective starts with the design. The liquid form of the foam is created by mixing two liquids, isocyanate and polylol. This liquid mixture is loaded into a spray gun and applied to the existing substrate. Next, we install three primary layers for all SPF roofs:
1. A 1.5-inch thick layer of foam.
2. A protective base coat on top of the foam insulation.
3. A brilliant white, reflective, ENERGY STAR® certified top coat.
While the insulating foam helps maintain your building's inside temperature, the reflective white top coat turns away 85% of the sun's UV rays. This tandem of energy-efficient roofing can help building owners save roughly 30% on annual cooling costs. Many of our customers who have received a foam roof replacement have said the energy savings have paid for the foam roof in as little as 5-7 years.
Premium Foam Roofs by Conklin®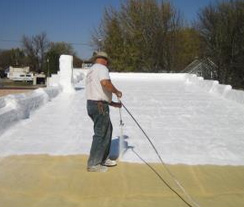 We exclusively use high-grade Conklin® products for all foam roof replacements and installations. We can install a wide variety of Conklin-made SPF products, including:
Benchmark®
PUMA® XL
Prime Time® Plus
Equinox®
Rapid Roof® III
The Conklin® brand has been trusted and tested nationwide for over 35 years. Their products have been installed on over 2 billion square feet of roofs across the country. Conklin® pioneered the cool roofs industry and is well-respected for their energy-efficient and "green" roofing solutions. Conklin® also offers great warranty coverage on all their foam roof products. These optional non-prorated warranties cover 100% of the materials for up to 20 years. Hoppe Roofing is proud to match that warrany by also covering 100% of the labor for up to the same time period. These full-coverage, non-prorated warranties are renewable, transferable, and extendable.
Give us a call today to schedule a free on-site inspection at 855-472-4392!