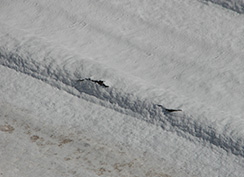 At Hoppe Roofing, we proudly offer full-scale commercial roofing services. These service offerings include efficient, professional foam roof repair. Our capable roofers have extensive experience in foam roof repair as well as other spray foam roofing services. Hoppe Roofing has roots of quality commercial roofing service to Iowa, Minnesota, and South Dakota extending back to 1977.
As part of our foam repair service, at the beginning we carefully evaluate your foam roof's condition. Our roofing professionals will perform a precise lookover of your roof during this process. They will examine all areas of damage and determine what your foam roof needs to remain waterproof. Then you will receive a detailed report and what's needed to bring the roof back up to performance condition.
Contact us today at (855) 472-4932 for a foam roof repair estimate. It would be our pleasure to assist you with your needs!
Foam Roof Repair Service
One of the unique things about poly foaming systems is they're renewable. Because of this distinction, they're easy to repair.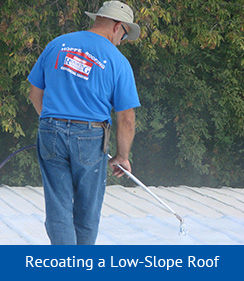 Spray polyurethane foam is a closed-cell foam product
Closed-cell foam is very tight-celled & compact
This foam has almost 1 million closed cells per square inch
It prevents lateral water movement within the foam roof's structure
Damage therefore tends to stay localized
If water seeps into a foam roof, it will likely remain in its point of entry. Foam roof repairs just involve removing the "wet" parts until dry foam is reached, caulking that area so it's sealed against water, and then recoating over it.
In other words, foam roof insulation systems offer a great combination of longevity and cost-efficiency. But sometimes spray foam roofing systems are not installed properly. In the event your foam roof needs more intensive work, we can help you with these needs, too.
Spray Foam Roofing Benefits
The Hoppe Roofing Difference
Quality service since 1977
Experienced roofers
Durable, energy-efficient products
Non-prorated warranties
Superior workmanship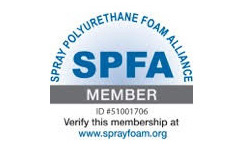 To strengthen our value, Hoppe Roofing is a proud member of the Spray Polyurethane Foam Alliance (SPFA). This is a testament to our dedication to providing our customers with top-level expertise in foam roof installation, repair, maintenance, recoating, and replacement.
Our own durable foam roof insulation systems stand out with:
6.5 R-value per square inch of thickness
Avoid intensive roof tear-off with applicability on almost all roof substrates
Seamless, fully adhered & extremely compact
Can be repaired & recoated for indefinite lifespan
Has resisted leaks, drips & other water-related troubles
Reinforced & protected by UV-resistant, durable roof coatings
Lasting protection against damaging effects of severe weathering
ENERGY STAR® certified
White surface with 85% reflectivity can give 30% yearly A/C cost savings
Significant heating cost savings during colder periods of year
Non-prorated warranty coverage for up to 18 years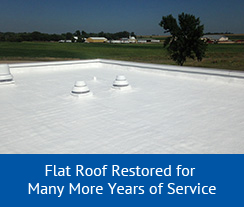 Our optional, non-prorated warranties cover 100% of labor and material costs. And they are renewable and extendable! On top of this, these foam roof insulation systems can pay for themselves in 7 years or less!
Contact us today at (855) 472-4932 for efficient, dependable foam roof repair! Our dedicated team looks forward to earning your business and serving you!