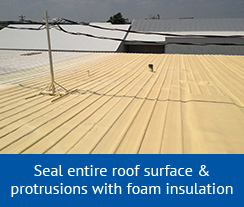 Are you looking for a superior product to leak-proof your building and save on energy costs? Hoppe Roofing offers an effective solution with our foam roof insulation systems.
This premium roofing system offers a great balance of long-term insulation, leak resistance, and cost-efficiency.
For one, spray foam roofing offers some of the lowest product life-cycle costs for any roofing system on the market today. And it has a long-standing record of effectiveness in commercial applications. It's not surprising as to why spray foam roofing continues to grow in use today.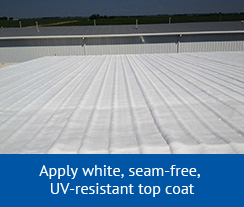 With our premier foam roof insulation systems, you can receive savings on heating and A/C costs year-round. Completely seal your roof with a roofing system that's bulletproof, and enjoy leak-free protection and big energy savings in the years ahead!
Contact us today at (855) 472-4932 for a free roof estimate — we'll be happy to share how our foam roof insulation systems can greatly reduce your costs.
Foam Roof Insulation Benefits
For foam roof insulation needs, we proudly use top-grade spray polyurethane foam and elastomeric roof coatings from Conklin. We offer this closed-cell foam because of its track record and customer benefits. Here's what our foam roof insulation system can offer:
Spray foam used for 50+ years in commercial applications
30+ year track record of success in roofing applications
Extremely tight-celled, compact body for superior leak-proofing
Almost 1 million closed cells per square inch
Reinforces, insulates & protects building at same time
Lightweight, long-lasting & durable
Prevents lateral water movement within roof structure
Strong insulation value per square inch
The Hoppe Roofing Difference
Quality service since 1977
Experienced roofers
Durable, energy-efficient products
Non-prorated warranties
Superior workmanship
Upon application, spray polyurethane foam expands 30 times its original size. With our high-performance, water-based elastomeric roof coatings, your building will be leak-free, energy-efficient, and cost-efficient in the years ahead!
Foam Roof Insulation – Iowa & More
Hoppe Roofing is a proud member of the Spray Polyurethane Foam Alliance (SPFA). We are also recognized as a Master Contractor by our building products manufacturer of choice, Conklin®. Our experienced roofers will give you a quality foam roof insulation system which offers: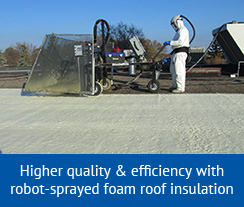 6.5 R-value per square inch of thickness
Seamless, fully adhered, leak-proof protection
Strong protection against damaging effects of severe weathering
Can last for decades or more with proper maintenance
No more issues with leaks, drips & other water-related issues
White surface with up to 85% reflectivity value
Can generate 15% yearly utility cost savings
Eliminates air filtration, leading cause of heating loss
Recoat-able & repair-able for indefinite lifespan
Little-to-no intensive tear-off & replacement
Spray Foam Roofing Installation
Potentially recoup your investment in 7 years with energy cost savings!
We stand behind our foam roof insulation systems with non-prorated, full-coverage warranties for up to 18 years! These non-prorated warranties cover 100% of labor and materials, and they are renewable and extendable.
Contact us today at (855) 472-4392. We would be happy to give a foam roof insulation estimate, and discuss how we can be your long-term roofing partner. Our team looks forward to earning your business!