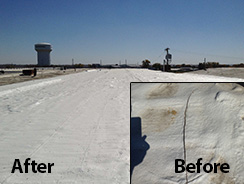 Commercial flat roofs come in a wide variety. There are single-ply systems like TPO, PVC, and EPDM rubber, built-up and modified bitumen, spray foam, and even hot tar roofs. In spite of the many differences between these roofing systems, they all respond equally well to our flat roof coatings. Hoppe Roofing is a full-service roofing company with a record of service going back to 1977. Whether your flat roof is new or old, a coating is something that will provide great ROI.
Our coatings are durable, energy-effect, and can add decades of life back to your commercial roof. With our use of Conklin® roofing products, and an owner who has been certified as a Master Contractor, we deliver the most personalized service, from craftsmanship to our interactions with you. Our commitment to excellence shows in our flat roof coatings and you can rest assured knowing you have done everything you can to get the most value possible from your roof.
Benefits of Flat Roof Coatings
One of our primary objectives with our flat roof coatings is to prevent roof replacement. Once a building's roof starts to exhibit chronic problems, most building owners think their only solution is a complete roof tear-off and replacement. This is not always true. With a flat roof coating by Hoppe Roofing, you can restore your current roof and bring it back to like-new condition for years. Other benefits of our coatings include:
Reflective top coat turns away 85% of the sun's damaging and heat-inducing UV rays.
A cooler roof which translates into annual A/C savings of up to 30%.
Possible tax benefits from ENERGY STAR® certification.
Seamless application fully adheres to your roof, creating a durable and rugged bond.
A lack of seams means water doesn't have anywhere to slip under.
The seamless membrane expands and contracts with changing temperatures to provide year-round protection.
Withstands hail, fire, chemicals, and hurricane-force winds.
Application can be done during business hours, meaning you don't have to close down shop, even for a day.
Adheres to almost all flat roof types.
Relatively maintenance-free over the course of its lifespan.
Backed by non-prorated warranties on 100% of the labor and material costs.
The Value of Conklin® Roofing Products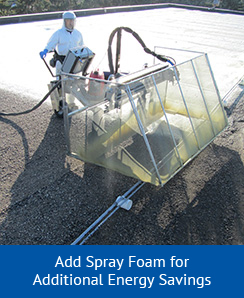 Even the best roofers need superior products to do their jobs right. For Hoppe Roofing, there's no name we trust more than Conklin®. One major reason to choose Conklin® for your flat roof coatings is that they invented the very first acrylic roof coating. In 1977, Conklin® pioneered the cool roofs industry with Rapid Roof, the first Acrylic Elastomeric Roof Coating. Although the product has undergone several upgrades and refinements over the past 35+ years, many buildings with the original product are still holding strong to this day.
In their nearly 40 years of doing business, Conklin® products have been applied to over 2 billion square feet of roofs across the country. They continue to remain on the cutting-edge of product development and provide great warrantees for their products. The Conklin® Company allows us to provide you with the best service possible.
A Roofer You Can Trust in Iowa, Minnesota, and South Dakota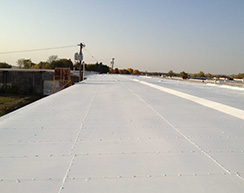 Finding a roofing company you can trust, and one that has the right product for your situation, can be a daunting, time-consuming task. Hoppe Roofing is a family owned business. Along with Master Contractor Don Hoppe are family members, who are all active in this business. Don is personally on-site for each roof we work on.
His title of Conklin® Master Contractor is an honor that he has worked very hard to achieve and takes great pride in. To become a Conklin® Master Contractor, one must demonstrate a number of key attributes:
A commitment to excellence in product application and service.
Continuing education and training sessions.
A documented track record of quality applications and customer satisfaction.
Business integrity, stability, and professionalism.
The entire Hoppe Roofing team does not take this title and honor lightly. We continue to meet the rigorous standards for excellence set forth by Conklin®. We hope to deliver these benefits to you as well.
If you need a flat roof coating in the Tri-State Area, give us a call today at 855-472-4392!