Commercial Roof Repair Services
Commercial roof estimates
Commercial roof inspection
Commercial roof repair
Industrial roof repair
Agricultural roof repair
Roof leak detection & repair
Commercial roof maintenance
Flat roof inspection & repair
Flat roof maintenance
Metal roof inspection & repair
Metal roof maintenance
Rubber roof inspection & repair
Rubber roof maintenance
Single-ply roofing inspection
Single-ply roofing maintenance
Spray foam roofing repair
Spray foam roofing maintenance
As a full-service company, Hoppe Roofing proudly offers full-scale industrial and commercial roofing services. Part of our service offerings is efficient, professional commercial roof repair. When your commercial roof needs simple patchwork or more intensive repairs, you can count on our team. We have 10 years of commercial roofing experience, and we will handle your needs efficiently.
We pledge your complete satisfaction, and we will work quickly to ensure your roof is back up to performance standards. When your roof has leaks or other issues, give us a call. You don't have to let those smaller repair needs turn into more costly demands or even a need for complete roof replacement.
Contact us today at (855) 472-4932 to arrange a commercial roof evaluation. We will carefully examine your commercial roof and present you with the solutions needed to cover your roof's requirements.
Commercial Roof Repair – Iowa
Hoppe Roofing has served the Tri-State region of Iowa, Minnesota, and South Dakota since 2004. We are a proud, family-owned enterprise. Our commercial roofing company treats our customers' needs as if they were our own, and excellence is a standard of every part of the business.
When needed, we offer professional commercial roof repair with a leading-edge roof repair solution: durable, ENERGY STAR® certified Conklin® roof coatings. These high-performance coating products will make your building leak-free, energy-efficient, and cost-efficient. And they have an exceptional performance record nationwide. Since 1977, 2+ billion square feet have been reinforced with Conklin® products.
Commercial Roof Repair in IA & Surrounding States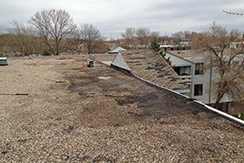 What can these roof products do for you now and in the future? Here is an overview of the benefits they offer:
Eliminates roof leaks upon application
Forms seamless, waterproof barrier over old roof
Addresses current repair needs
First-rate resistance to strong winds, hail, solar radiation & more
Add years to existing roof's lifespan
Future roof leaks & repair needs mitigated
Can give 30% yearly A/C cost savings with 85% reflectivity
Elastic properties for expanding & contracting in temperature changes
In other words, you can address existing repair needs and keep future cost demands at bay with these roofing solutions. And they provide great potential for ROI with their white, reflective surfaces!
Non-Prorated Warranty Guarantees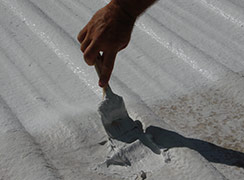 Along with our Conklin® products, Hoppe Roofing offers optional, non-prorated, full-coverage warranties. These warranty guarantees on our roofing systems cover 100% of labor and material costs, and they last for up to 18 years. They are also renewable and extendable.
Time and again, our Conklin® roofing systems have far outlasted their warranty period. When the warranty guarantee has expired, the roof can be recoated for the same great protection, benefits, and renewed warranty coverage.
Whether you need commercial roof repairs or want to upgrade your roof with a roof coating, give us a call today! You can reach us at (855) 472-4932 to arrange an on-site roof estimate.