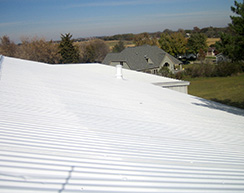 As a full service commercial roofing company serving the Tri-State area, our commitment to you is personalized excellence from start to finish. Hoppe Roofing employs only the best and most professional roofers who are more than capable of tackling any job placed in front of them. Our record since 1977 of professional roofing experience ensures we never have to subcontract any job out – we will be hands on, working with you from day 1 until the job is done right.
We are committed to providing every customer with cost-effective, long-lasting roofing solutions. One of our most popular services is our commercial roof coatings for flat, metal, or foam roofs. Coatings are the ideal way to restore your current roof, adding decades of high-functioning life back to it, all while simultaneously avoiding repetitive repairs or a full roof replacement. We also frequently apply our commercial roof coatings to newly installed roofs as well, not just decaying ones. By protecting your roof with a coating from the get-go, you're making a sound investment that will yield many long-term benefits.
Benefits of Commercial Roof Coatings
When breaking down the benefits of our commercial roof coatings, it's important to first look at who manufactures the products we install. The Conklin Company is our sole provider of roofing products. Since 1977, Conklin® has been pioneering the roofing industry. In fact, it was their elastomeric, cool roof coatings that propelled them to the top of the industry. Hundred of buildings that were protected by Rapid Roof, the name of that first liquid elastomeric roof coating back in 1977 are still performing well to this day. Any great pioneer doesn't stop with the first successful version of a new product, however, and many more advancements to their roof coatings have been made in the past 35+ years.
The specific benefits of our Conklin-made commercial roof coatings provide a superior return on investment.
Conklin® Master Contractor in IA & Other States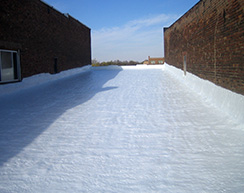 Owner of Hoppe Roofing, Don Hoppe, has been a Conklin® Master Contractor since 2011. This is an extremely prestigious honor in the roofing industry, only given to those who demonstrate a commitment to excellence in product application and service. As a Conklin® Master Contractor, Don has attended advanced factory direct training sessions and has a documented track record of quality applications and customer satisfaction. We do not take this title and honor lightly at Hoppe Roofing and continue to meet the rigorous standards for excellence, including business integrity, stability, and professionalism set forth by Conklin®.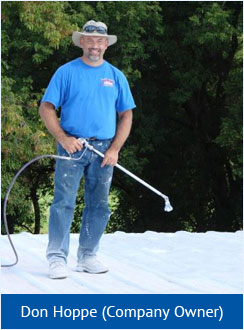 ENERGY STAR® certification can lead to tax benefits as well as much lower A/C bills.
Our customers can see a 30-50% savings on annual cooling costs after installing one of our roof coatings.
Class A fire resistant.
Class 4 hail protection.
White finish reflects up to 85% of the sun's damaging UV rays.
Seamless application adheres directly to the roof material which eliminates any moving parts. This creates strength and ensures there are no loose ends or stray pieces of roofing material for strong winds to pick up.
Seamless membrane contains elastomeric properties which allow the coating to expand and contract
throughout the day, preventing cracking, bubbling, or any tension at all.
Seamless also means waterproof – there are no cracks between layers of material or gaps around screws for water to leak into.
All told, these benefits can add up to 20-25 more years of high-functioning, low-maintenance life for your commercial roof.
Best of all, Hoppe Roofing offers non prorated warranties on all of our commercial roof coatings. Conklin® also
offers a joint warranty for up to 18 years, although their roofs have a history of far outlasting the warranty period.
Who to Call for Commercial Roofs Coatings in Iowa, Minnesota, and South Dakota
Hoppe Roofing is a family owned business; Don's family members are all active in company's operations. The Master Contractor himself is still on each and every roof with his team, ensuring every customer gets the service they deserve and paying great attention to details that can make or break any roof system. We provide roofs that keep your investments secure, and give you peace of mind for years to come.
At Hoppe Roofing, we understand that finding a roofing company you can trust that has the right product for your situation can be a daunting, time-consuming task. If you're located in the Tri-State area and have a commercial flat, metal, or low slope roof that you want protected with one of our durable and long-lasting Conklin® roof coatings, give us a call today at 855-472-4392.