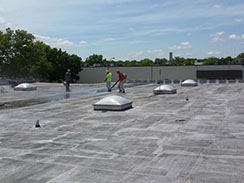 As a full service commercial roofing contractor, we are proud to offer our clients in and around Rapid City, South Dakota with services for every need and every roof type.  We understand that a facility manager might panic when having to replace their roof, but don't worry – our team won't ever suggest that unless it is absolutely necessary.  We will make sure we have provided repair and restoration solutions if possible.
When you're ready to learn more about the services our team has to offer, call the Hoppe Roofing office today at 855-472-4932.
Common Roofing Troubles
Regardless of what type of roofing substrate you have, there are common issues that can affect its longevity.  A few of the more common troubles include: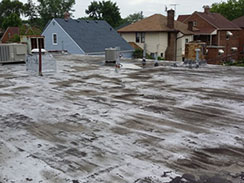 • Leaks – Leaks are the most common roofing issue. No roofing substrate is leak-free. Trusting an experienced contractor can stop the leaks and prevent them from spreading. Some leaks are harder to find than others, so it's always best to call a professional!
• Damaged flashing – If your flashing is compromised it can allow water to infiltrate your roof system.
• Improper installation – If an inexperienced team comes to install your roof and does not make sure the proper care is taken to install it correctly it is only a matter of time before your roof will fail. Always trust the experts, trust a team with experience. Hoppe Roofing has over 30 years of commercial roofing expertise, we won't allow your roof to be installed incorrectly.
• Subpar repairs – The same goes for repairs as it does improper installation – if your roof is not repaired by a professional, the integrity of your system can become compromised. Always trust an expert.
• Age – If you roof is well beyond its expected lifespan you may be spending more than you should on repairs. A restoration or even a full roof replacement might be the most affordable option for your long-term solutions.
• Storm damage – When mother nature throws you her worst it can sure affect your roofs ability to protect your building. Always be sure to have your roof inspected after any severe weather blows through town.
• No maintenance plan – Neglecting routine maintenance is a sure-fire way to cut your roofs lifespan nearly in half.
Protect your roofing investment – call Hoppe Roofing to provide the expert commercial roofing services you require.  You can reach our office at 855-472-4932.